Source: https://honeykidsasia.com/online-learning-with-edoovo/
Interactive, real-time learning with cool graphics and fun learning rewards make EDOOVO classes a hit with the kids. Here's why our HoneyKids junior reporter loved it…
As a parent who's homeschooled her kids since the start of the pandemic, I can attest to how difficult it can be to get young ones to sit down and learn. It's been quite the adjustment for my sons, not being able to see their teachers or play with their classmates. Admittedly, I was hesitant about an online enrichment class on top of their homeschooling, but as soon as I did the tutorial on EDOOVO's platform, I knew that my five-year-old would be a fan — and he was!
What makes EDOOVO stand out
Gone are the days of pre-recorded lessons! EDOOVO uses an interactive online platform to hold its live lessons. "The class is so fun! It's just like a game!" says my son, who loves all the games, cute stickers and fun elements that appear. Teacher Mae was quick to engage him, using real life – image cards and asking questions throughout the lesson to tap on his knowledge. Having a small class of 4 also allowed for more interaction between Teacher Mae and the rest of the class. Throughout the session, I never saw my son leave his chair or look away from the screen. Instead, he would volunteer answers and ask questions of his own!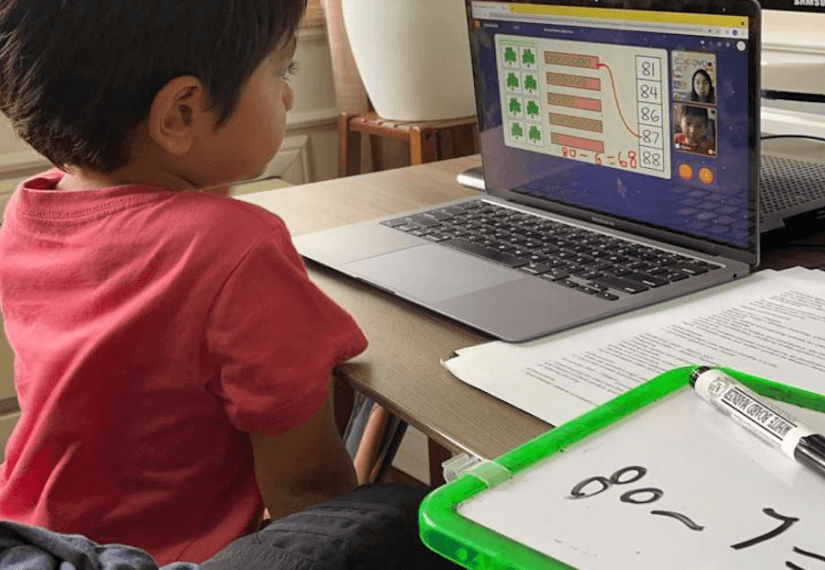 The EDOOVO way
The folks at EDOOVO really know their stuff: they've created a curriculum that's beyond age-appropriate — it's also ability-based. They understand that for kids to learn effectively, lessons should be related to their interests and learning levels. The curriculum consists of 5 core learning domains: self, social, nature, science and the arts. Each lesson covers a variety of topics based on these to prepare all children to transit effortlessly from early years to primary school.
What can kids learn?
EDOOVO offers online enrichment classes covering English, Maths and Chinese for children aged 3 to 8. Apart from the cool interactive activities, it also features real-time teaching by qualified teachers and a holistic curriculum. Depending on the age group, classes are divided into classes of 4 to 6 students and are held once a week. Each class is a pleasant 25-minute session for Little Whiz Juniors (kids aged 3-5 years) and 50 minutes for Little Whiz Seniors (kids aged 5-8 years), just the right length for optimal learning based on the age group's concentration span. Each student's learning will also be reinforced through the activity sheets and lesson replays which will be made available after every lesson for all classes.
Register here for your FREE trial class!